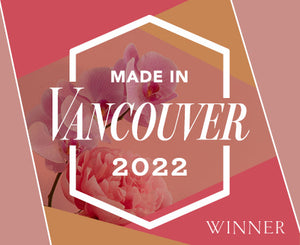 Made In Vancouver AWARD Winner!
"Watch out, runway: the winners of Vancouver magazine's fourth annual Made in Vancouver Awards have arrived.
Dress your best with looks from our city's most fashion-forward makers. But hey, it's not all about looks: this year's #1 award in style went to a brand that's changing period stigma, one sustainable swimsuit at a time."
Read More
Feminine underwear as period protection
We aim to challenge the status quo on periods.
All of our products are made ethically, locally and with sustainable materials.
We want to make an impact on the planet, on our everyday well being and others.

We believe period panties can be both functional and beautiful. Ready to try?
Buy 4 or more period underwear and get a 10% discount
Use 'supportlocalbusiness' at checkout.
* offer applies on Yvonne, Giselle, Colette & Yvonette
We are changing the period experience.
We've created a line of lingerie where you feel protected, elegant and beautiful.
SHOP BODYSUIT